If you're looking to escape the hustle and bustle of city life, explore the verdant valleys, and get some peace and quiet on an epic scale, then the Hunza Valley in northern Pakistan is the place for you.
Whether you're looking to visit as part of an organized tour group or simply rent a car in Pakistan to go on your own, this travel guide will help you plan your trip and have everything you need to make it successful.
Where is Hunza Valley located?
The magnificent Hunza valley is located in Northern Pakistan. Also known as Gojal, it is one of Pakistan's least-populated areas. Hunza river formed this valley, which borders Ishkoman to the northwest, Shigar to the southeast, Afghanistan's Wakhan Corridor to the north, and northern China's Xinjiang region to the northeast.
The Hunza Valley floor is at an elevation of 2,438 meters (7,999 feet). Geographically, the Hunza Valley consists of three regions: Upper Hunza (Gojal), Central Hunza, and Lower Hunza (Shinaki).
The people who live here call themselves Hunzakuts, and they have a unique culture, history, and way of life. Because of its natural beauty and slow pace of life, it has been called Little Switzerland of Asia by many travelers over time.
How to Go to Hunza Valley?
Many travelers wonder what it's like to visit Hunza. It is indeed a hidden gem of Pakistan. You can go there by hiring private transport,
The distance between Gilgit and Hunza is 100 kilometers, and most people arrive by road. It takes about 2-3 hours to get from Gilgit to Hunza. The main bus stop is located on KKH Aliabad. There is a possibility of a 24-hour trip from Islamabad.
Gilgit Airport is small and has 45-minute flights to Islamabad on Pakistan International Airlines. PIA offers regular flights of small 42-seat planes between Gilgit and Islamabad. All flights, however, are subject to weather clearance, and in winters, flights are often delayed by several days.
You can take a flight from Islamabad and land in Gilgit. From there, you can rent private transport or hire a guide who will take you on an adventure through one of Asia's most beautiful valleys!
8 Tips for Visiting Hunza Valley
Beautiful Hunza Valley has long been a major tourist attraction in Pakistan, thanks to its breathtaking natural beauty and the area's importance in history as an ancient capital of the Himalayan Kingdom of Baltistan.
Today, it's home to some of the world's best skiing (especially in winter) and much more! If you're planning on visiting Hunza Valley yourself, here are 8 tips that will make your trip that much more enjoyable and memorable.
1) Prepare your body
Long flights can take a toll on your body—you don't want to be groggy and disoriented when you land in a new place! Start hydrating yourself well in advance of your trip, so that you're adequately hydrated for take-off. Another tip: Don't sleep with your earbuds on. You want to feel fully rested when you reach your destination, but if you sleep with earbuds in, it makes sleeping in unfamiliar surroundings even more difficult.
2) Explore the valley slowly
You can spend a week in any of those valleys and never run out of things to do. No matter how long you stay, don't rush from one attraction to another—stop often and let yourself relax in your surroundings. This valley has been visited by people since at least 8,000 B.C., so there is plenty of history and beauty to absorb, both above ground and below it.
3) Book your stay in advance
Many of these hotels require reservations, so it's important to plan ahead and book early. If you don't have a specific hotel in mind, start your research by looking at top-rated places to stay in Karimabad, Pakistan—you can narrow down your search by price range or star rating to make it easier.
Then, once you've decided on a place to stay, book as soon as possible; if there are any cancellations at all, someone else might swoop in and take your room.
4) Take a tour of Baltit Fort
The Baltit Fort is one of many fortresses in Hunza. Its unique construction makes it one of its kind in Northern Pakistan. As you climb higher, you are greeted with breathtaking views of rivers and mountains.
Visitors can take a tour inside any time between May and September, from 7:00 AM – 6:00 PM (closed on Mondays). A souvenir shop is available at the entrance to provide visitors with local gifts. Admission is 100 Rupees for adults and 30 Rupees for children.
5) Visit Upper Hunza Valley
One of Pakistan's most beautiful and serene valleys, Upper Hunza is also known as Gojal. The valley boasts some of the country's best places to visit, such as Passu and Sost. You can tour these stunning tourist spots by road or by hiking through lush mountain trails.
If you're traveling during summer, be sure to visit Passu Glacier Park—which has natural ice caves and one of Pakistan's highest waterfalls.
6) Have Fun at Shigar Fort
If you're spending your time in town, start out by visiting Shigar Fort. It's an easy walk from Shigar Town, and once you get there you can stop by the local bakery for a warm cookie before heading up to see some impressive views of nearby glaciers.
Even if it's not glacier season (mid-June to mid-September), it's still worth climbing up to see views of terraced fields and grazing yaks.
7) Shop at local markets in Karimabad and Gulmit
While in Karimabad and Gulmit, be sure to stop by a few of their local markets. There's nothing like eating fresh fruits and vegetables grown on nearby farms. You can also buy locally made handicrafts, spices, and other souvenirs at these markets. Just make sure you bargain hard!
8) Enjoy Hiking in Ultar Meadow
One of my favorite activities in Hunza is hiking to Ultar Meadow. It's a beautiful trek that's popular with locals and tourists alike. Hiking through green pastures and tall mountains makes for a great day trip from Gulmit, especially if you like getting some exercise on your travels. If you love hiking and exploring beautiful landscapes, then I highly recommend giving it a try!
Best Months to Visit Hunza Valley
All the months from April to October are ideal for visiting Hunza valley. However, May, June, and July are ideal months to visit Hunza valley. The weather is pleasant, there are fewer tourists in Hunza valley than in spring and autumn. However, you should still expect some rain, especially on afternoons.
During these summer months, days can be long and temperatures can easily rise above 30 degrees Celsius (86 Fahrenheit). Be sure to pack some sunscreen if you plan on visiting during the summer season!
Best Time of Day to Visit Hunza Valley
As far as timing your trip goes, morning hours tend to be best. This will allow you to avoid any crowds that may have gathered at popular sites like Altit Fort or Passu Cones. It's also a good idea to keep an eye out for wildlife like ibex or marmots. These animals tend to be most active early in the day.
Distance of Hunza Valley from Popular Cities
If you are planning a business trip to Pakistan, here is a list of distances from major cities in Pakistan. These distances will help give you an idea of how far you would have to travel, what modes of transportation you might take, and perhaps even change your vacation plans.
For example, if you're going to be traveling from Islamabad to Gilgit-Baltistan (which is a very long distance), it may be more practical for you to fly rather than drive or bus. If you're coming from Karachi or Lahore, on the other hand, it may make more sense for you to drive rather than fly. The choice is yours!
Lahore to Hunza Distance
It would take 18 hours and 41 minutes to travel from Lahore to Hunza at a constant speed of 50 kilometers per hour. There is the possibility that your Hunza travel time will vary depending on the speed of your bus, train, or vehicle.
Murree to Hunza Distance
There are 517 kilometers between Murree and Hunza. Murree is approximately 7 hours and 32 minutes away from Hunza by car.
Islamabad to Hunza Distance
It takes 582 km to drive from Islamabad to Hunza. From Islamabad to Hunza, the drive takes approximately 8h 3m.
Top Places to Visit in Hunza Valley
The Valley of Hunza is a part of Gilgit-Baltistan in Pakistan, which is located in northern Pakistan. It is also home to some of the oldest traditions and civilizations including Balti, Burushaski, and Shina. The valley is surrounded by high mountains and has many lakes which form almost 80% of its geographical area. Its green valleys make it an amazing tourist attraction from all over the globe.
Some of the top places to visit in Hunza are discussed below:
Khunjerab Pass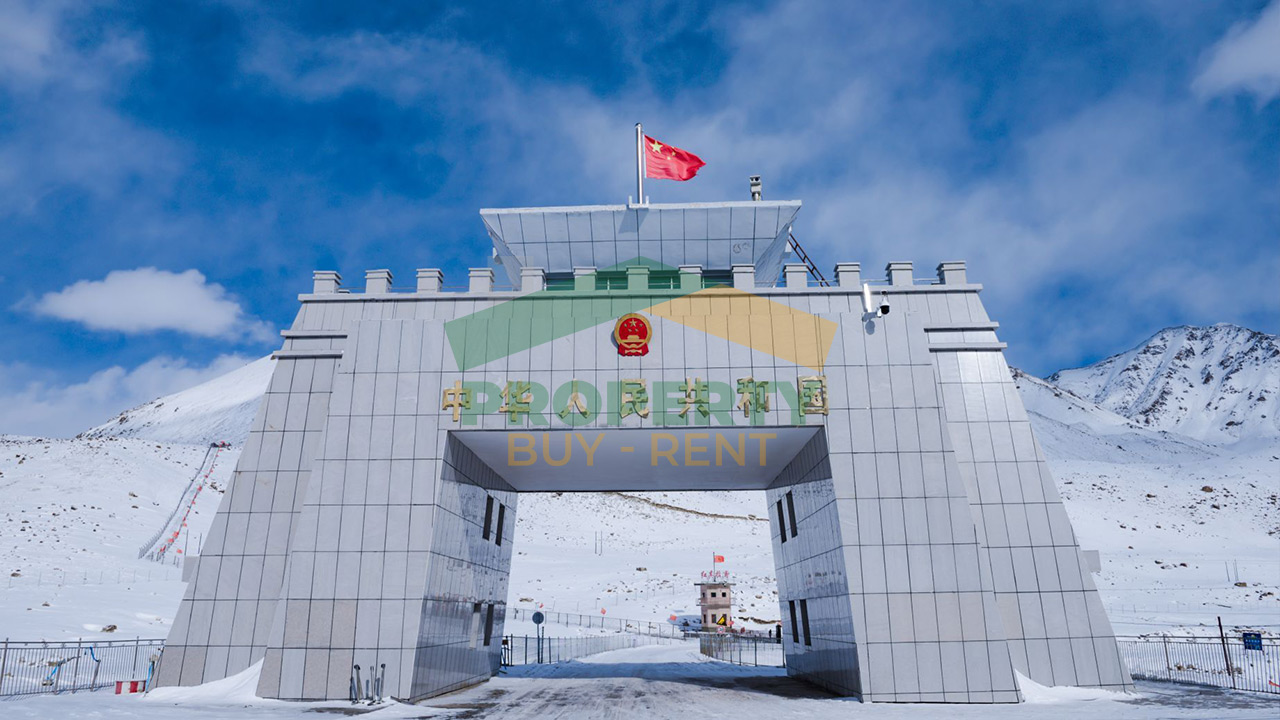 The first place on our list is Khunjerab Pass or popularly known as Passu which means peak. It is one of the highest mountain passes in Asia connecting China with Pakistan. Due to snow-covered peaks, it attracts lots of tourists who love adventure sports like skiing, rock climbing, etc. Some of the famous places near the pass are Shimshal and Sost valley.
Gojal Lake/Attabad Lake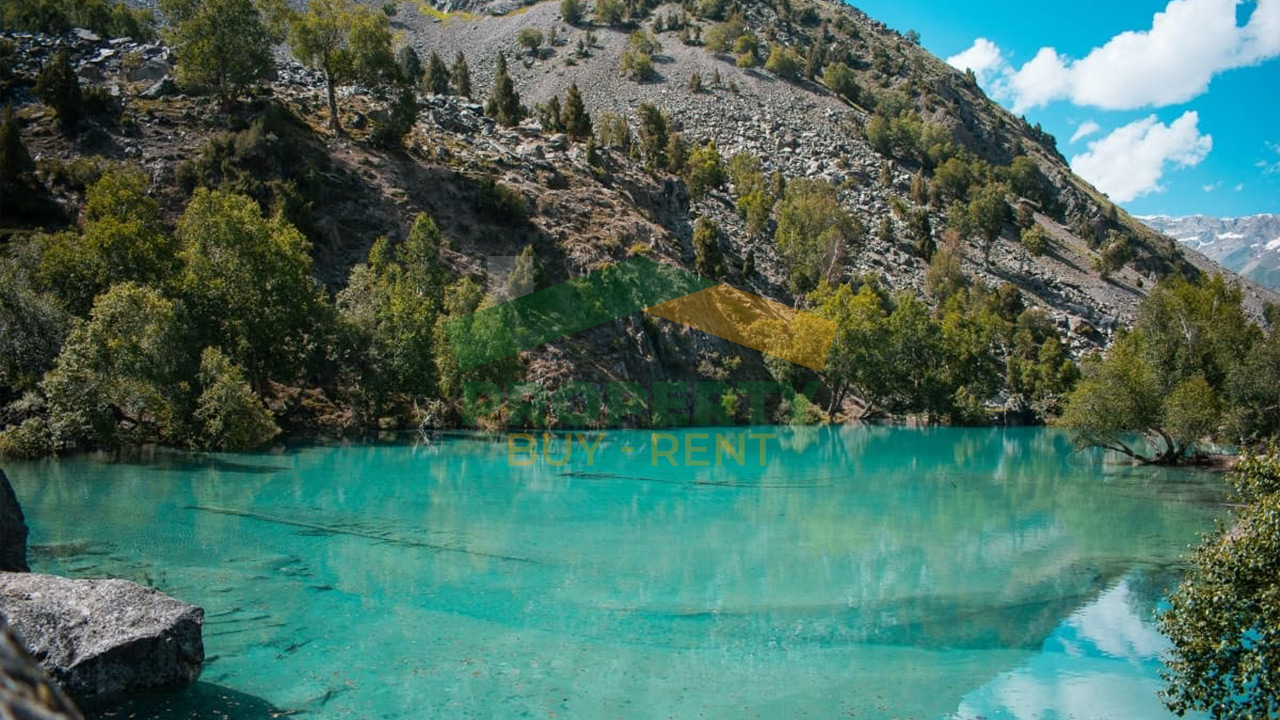 The second place on our list is Attabad Lake which is also called Gojal Lake. This lake was formed after a landslide blocked off a river creating a natural dam that created a large reservoir behind it.
After its formation, due to its beauty and natural environment people started living around it and that's how the city Gojal came into existence. Nowadays lots of tourists visit it every year to see its beautiful landscape, fish in lakes, etc.
Deosai Plains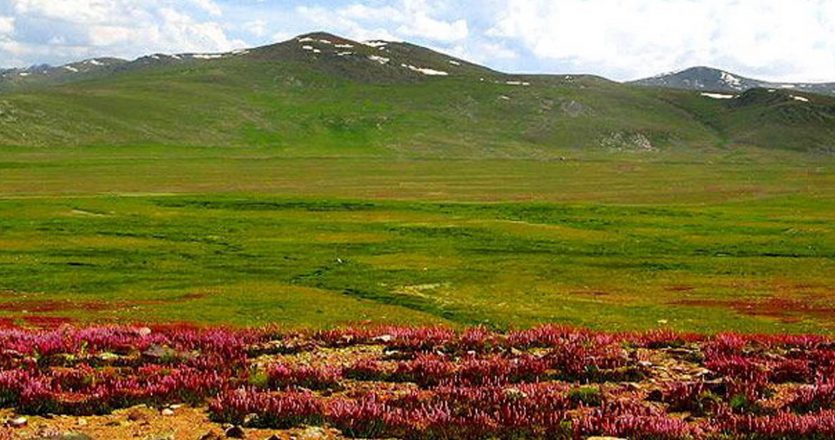 The third place on our list is Deosai Plains or simply Deosai Plateau which means the land of giants in the Urdu language. It is located at an altitude of about 4500 meters above sea level in the Gilgit-Baltistan region of Pakistan and has one of the highest plateaus in the world. Due to its amazing beauty, it attracts lots of tourists from all over the globe every year.
Karimabad Bazar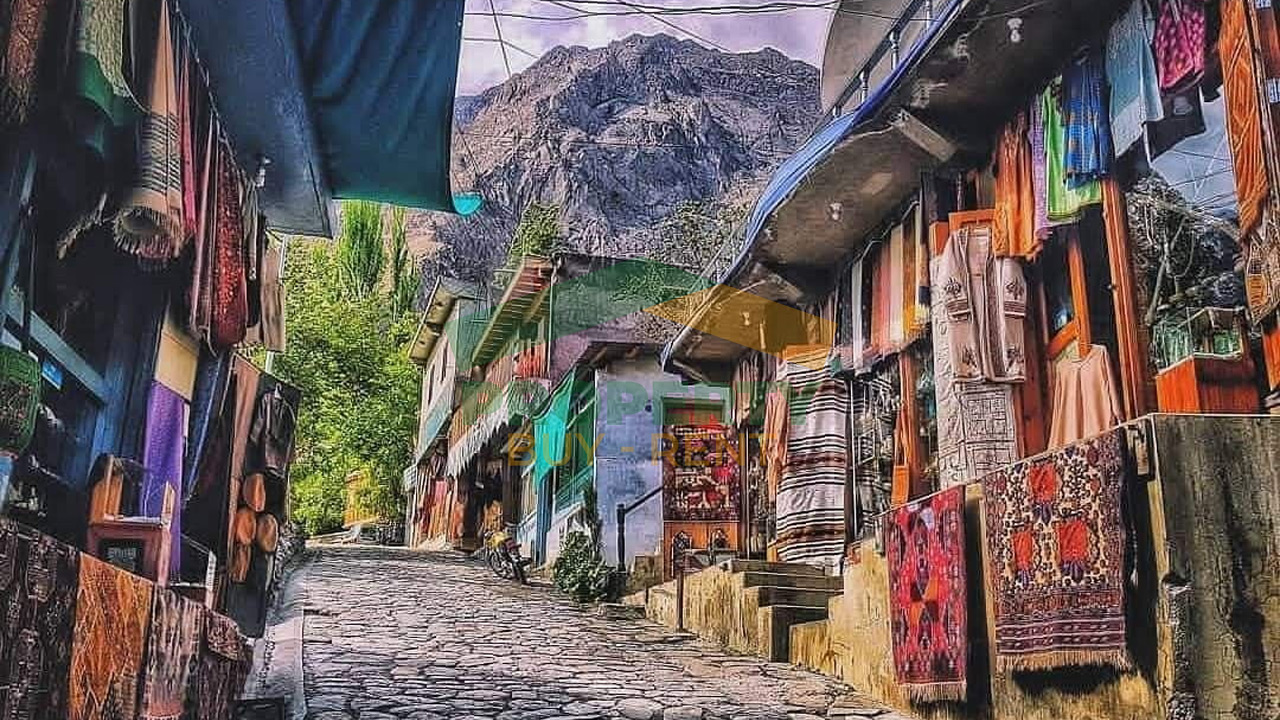 The fourth place on our list is Karimabad which literally means the city of Karim. This city was founded by the famous ruler of Hunza Raja Sahib Haidar Khan who also built a fort here for defense purposes. Nowadays it attracts lots of tourists from all over around globe due to its natural environment, historical places, etc.
Passu Cones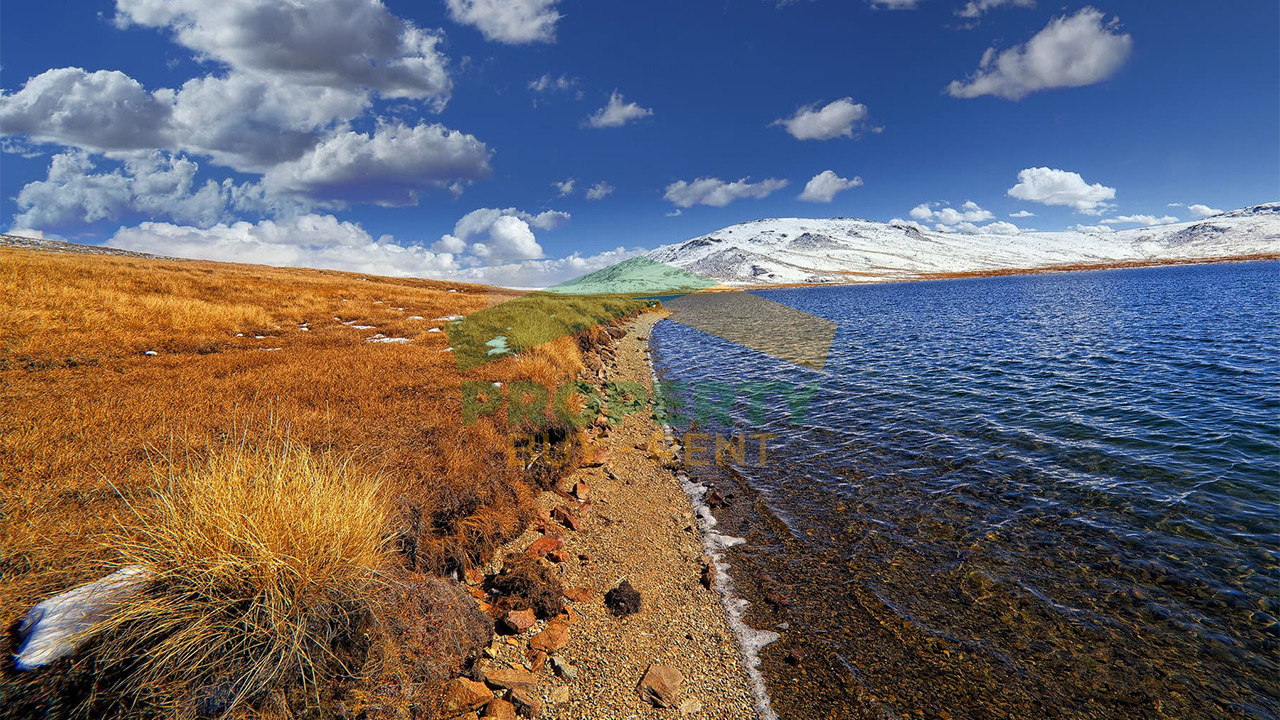 Located in Gojal Valley, Tupopdan 6,106 m (20,033 ft) is also known as 'Passu Cones' or 'Passu Cathedral'. This mountain dominates the region's landscape. Nearby high peaks include Pasu Sar, Shispare Sar, and Batura.
Top Lakes in Hunza Valley
Gilgit Baltistan is home to more than 6000 lakes making it the largest reservoir of fresh water in the world.
Attabad Lake Hunza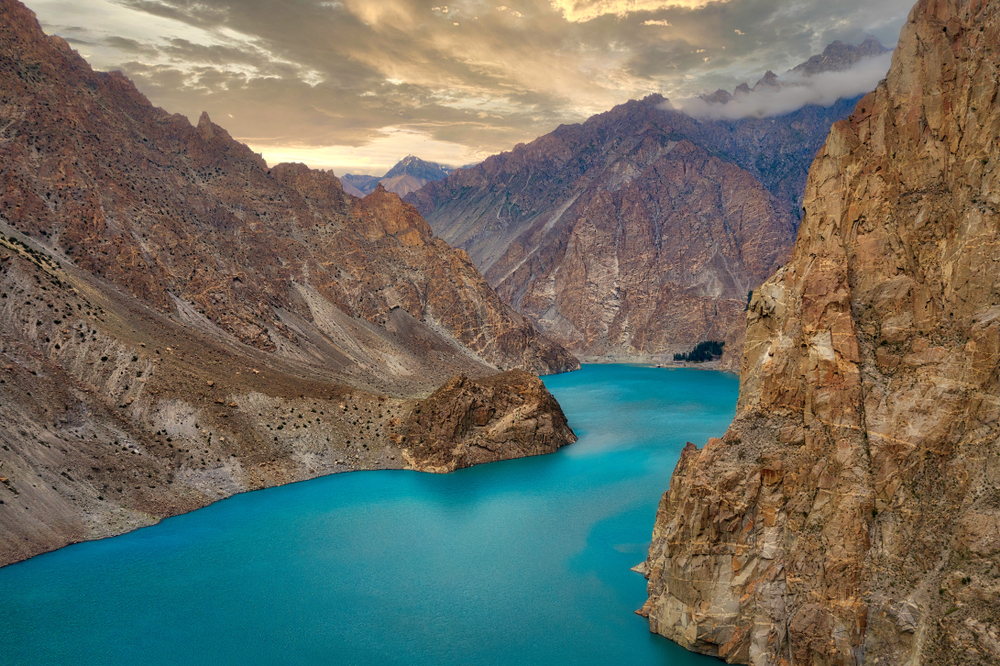 The Attabad Lake is located in Gilgit Baltistan's Hunza valley in the Gojal valley. Karimabad city, in Hunza valley, is 30 minutes away by car from the lake. Hunza's Attabad Lake is a magnificent and beautiful lake worth visiting. Located on the beautiful Attabad Lake, people can enjoy boating and luxury camps, and Luxus resorts.
Naltar Lakes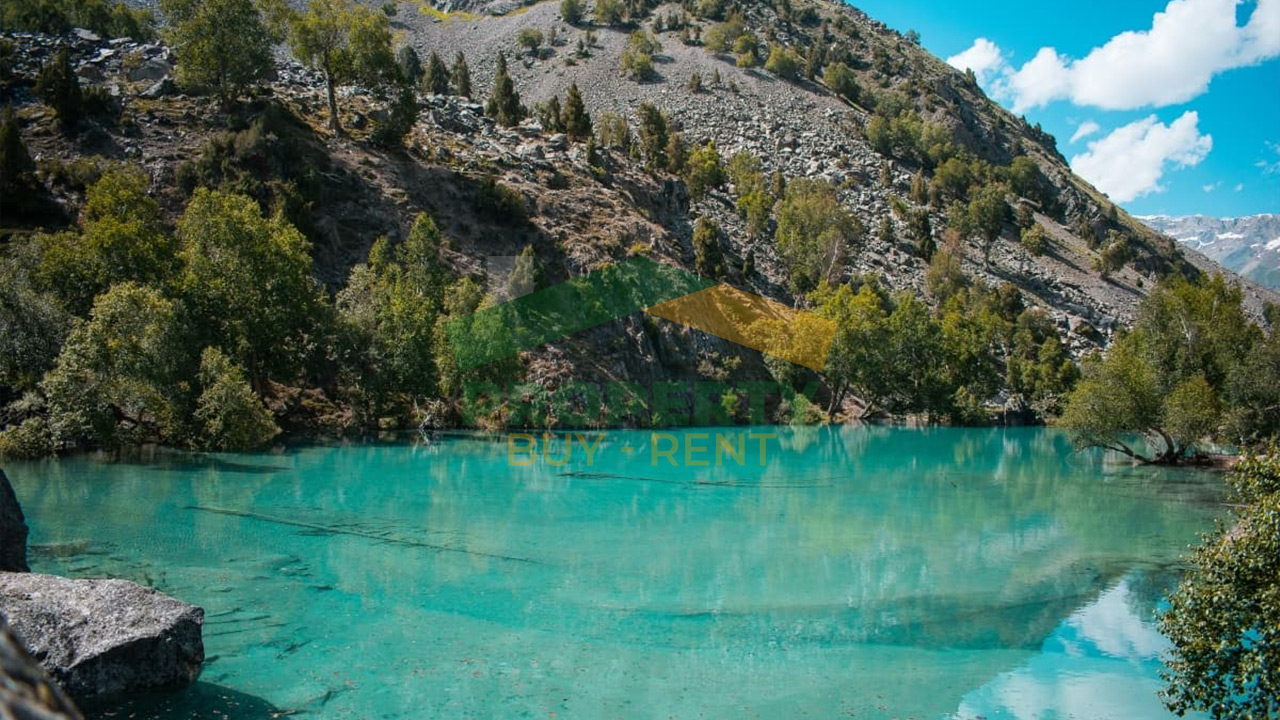 Naltar valley is located in the heart of the Karakoram in the Gilgit Baltistan region. There are five Naltar Lakes lakes in the Naltar valley known as Halima Lake, Satrangi Lake, Pari Lake, Dhudia Lake, Bodo Lake, and Blue Lake at a distance of 13 kilometers (8 miles) from Naltar Bala.
Borith Lake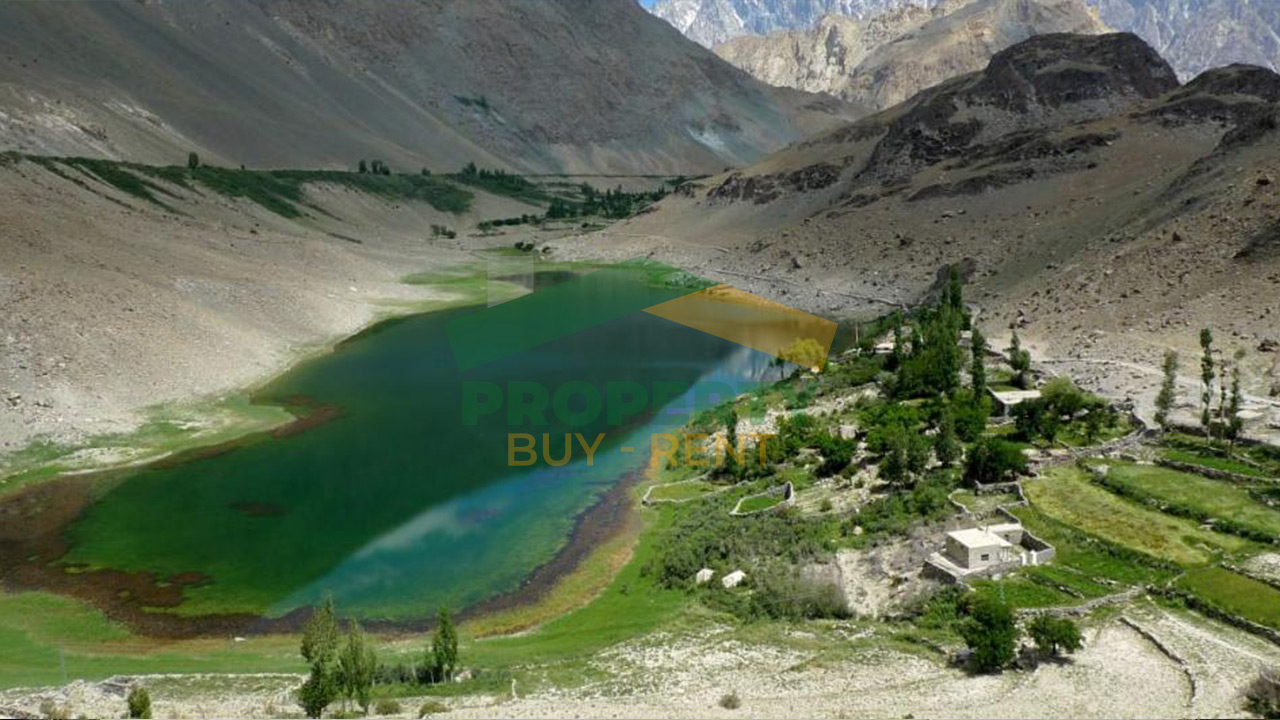 Borith Lake is a lake in Gilgit-Baltistan, Pakistan, located in the Hunza district 2,600 m (8,500 feet) above sea level. To the northwest of Husseini, a village near Ghulkin, Gojal, in the upper Hunza, is the hamlet of Borit, located around Borith Lake.
Some FAQs About Hunza Valley
Here are some common faqs about Hunza Valley that you should know before you visit this beautiful valley.
What Should I Bring with Me? 
If you plan on hiking, it's worth bringing proper hiking shoes, along with trekking poles. These items are available for rent in Karimabad but they can be expensive so it might make more sense to bring your own pair from home.
In addition to your regular camera gear, you might want to consider packing a wide-angle lens. There are many scenic spots throughout Hunza valley where wide-angle shots would come in handy. You should also bring insect repellent because mosquitoes can be quite bothersome throughout much of the year.
How Do I Get Around? 
Public transportation isn't very reliable in Hunza and taxi fares can quickly add up. Your best bet is to rent a car or motorbike when you arrive in Karimabad. Most hotels and guesthouses offer rental services and prices aren't too bad. Just remember to ask about insurance coverage before making a decision.
Is English or Urdu Spoken Here? 
Yes, English and Urdu have been widely spoken throughout Hunza valley thanks to its close proximity to Pakistan. But don't let that deter you from brushing up on your Urdu beforehand! Even though locals speak English well enough, learning even just a few basic phrases in Urdu can go a long way toward helping you feel more connected with the local culture.